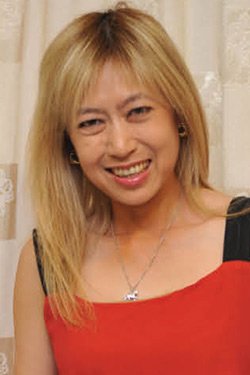 Dear readers,
As we move into the final days of summer, still enduring afternoons of intense heat, we bring you some exciting, thought-provoking feature articles we hope many of you can dig into; and also some inspiring stories that resonate with some of you. We shall all think positive even as we cast our minds to the disasters and anger energies of the past months.
Lillian Too revisits the classical bamboo book Sun Tzu's Art of War, which is every bit as applicable today as it was when first written centuries ago. Indeed, as events unfold in the political arenas of Malaysia as well as in the world of international relations, the advice contained in this strategic manual really does appear very relevant indeed. The art of war is a treatise on mapping out action plans to win in situations of conflict; yet the ancient wisdom of this book advises that the best strategy is to win without fighting. Have a read and see if you agree with everything else the ancient strategist advocates.
Sun Tzu is heavily quoted in Oliver Stone's 1987 film Wall Street, which showcased Michael Douglas at his best playing the wealthy and unscrupulous corporate raider Gordon Gekko. Despite playing an anti-hero with the film's main theme portraying the excesses of the 80's, Douglas became some kind of corporate god, a hero to hungry young investment bankers looking to make insane amounts of money, however immoral the means. That was decades ago and Douglas has been through a host of real life drama and tragedy. He has also aged but he is back, this time playing the genius inventor of the Pym particle in box office hit, Marvel's ANTMAN.
Michael Douglas has aged very well indeed; his character in ANT MAN reflects his off-screen aspirations focusing more on family values and the greater good. He is a veteran, a winner of more than just awards; he battled against tongue cancer, which he describes as like being reborn and given a second chance. We analyze his Four Pillars and discover some interesting findings pertaining to the animal signs present in his chart. Phillip Lim highlights the importance of these Earthly Branches in his Paht Chee column, which goes deeper into what the presence of different animal signs mean in the Paht Chee reading.
Meanwhile, we bring you Paris Hilton, whose sister Nicky recently wed James Rothschild in a sort of wedding of the season. Yes, there are more glamorous "royal" weddings happening in August, which we will cover in the September issue! Paris Hilton meanwhile sparks our interest as she is such an original, one-of-a-kind scion of the 21st century. Paris was the original REALITY star of television. Before the Kardashians, there was Paris. She is no stranger to fame but not initially for doing anything extraordinary; she literally is famous for being famous; today however, she has already parlayed her fame into a very successful brand name. And while she plays her dumb blonde persona to perfection, she is definitely not dumb. She works social media like an expert, and has turned honing one's image to a fine art. Dozens of young fans are inspired by her style, as they grow their own online presence.
And here is what those of you wannabe famous Facebook users might find beneficial to know; Hanni Lim's pertinent tips on what NOT to post on Facebook.
She describes some way-too-common examples of profile photos you should NEVER use, with examples of real life consequences. Of course once you know how to use Facebook, and other social media, you can similarly use these principals to improve your personal feng shui – the digital age really does demonstrate that life can and will imitate art.
We also feature Ong Li Dong, our partner with the Lillian Too Fine Jewellery Collection with OE, in her new role as founder of the bespoke wedding service Rings & Bands based in Valencia, 20 minutes drive from central KL. With German wedding jeweler Gerstner, she brings a unique collection with countless permutations that can be completely customized.
Since it's summer, in his architectural feature, Chris Yeo talks us into building an outdoor deck; he brings some great ideas on how to conceptualize your deck and how to get the best value and make the most of it once built. Meanwhile, our Design Tips story reminds you of the importance of not allowing the energy of your home to get stale, with some useful and quick-working feng shui pointers to spruce up your home on the spot.
Helen Oon takes us to Lisbon, Portugal this issue, a wonderful destination for anyone looking for intense beauty coupled with an intense workout with all the hillside-hiking you can get in. Lisbon is full of wonderful symbolic imagery, and famous for its egg tarts, but what is fascinating is the their annual en masse wedding celebration known as "The Brides of St Anthony", the patron saint of good marriage and romance. The lucky couples picked by the City Hall for this event will have all expenses related to their wedding – including the honeymoon –sponsored by the State!
A celebration closer to home is Singapore's 50th anniversary, which marks this Lion City's golden jubilee of 50 years of Independence. Singapore Inside Out is a travelling showcase of how far Singapore has come in the creative disciplines spanning art, design, architecture, music and dance. Starting in Beijing in April, the tour made its way to London in June, has its next stop in New York in September, before coming home in November. Helen walks us through the London leg of the tour and it's amazing!
Finally, we are thrilled to bring you a special new contributor whom we have persuaded to share culinary delights with us every month; our Gourmet Goddess Juanita, Lillian's special friend whose first love has always been cooking. She specializes in some truly special Vegetarian recipes that are simple, easy to cook and very yummy. Do try!
We look forward to seeing you at Lillian Too's Spiritual Feng Shui event, where Lillian will explain in depth the practice of 21 TARAs highlighting the 9 Manifestations of Tara who brings protection and special blessings. She is joined by Khenpo Delek Rinpoche, an extraordinary Lama and Guru of incomparable qualities. More in her Spiritual Retreat article inside!
See you at Marina Mandarin in Singapore on Sunday 2nd August, and at Gardens, MidValley on Sunday 9th August!