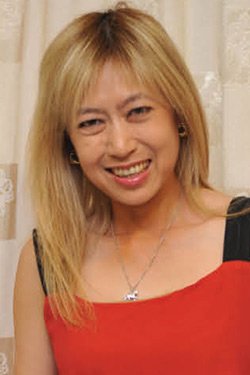 Dear readers,
Welcome to our Chinese New Year issue! This year, the Lunar New Year comes early on 28th January, which means we have the precious Lap Chun, the essence of Springtime growth energy which we have not had for the past couple of years. The Chinese believe the presence of the Lap Chun is always a good indication so this, together with other promising indications observed in 2017's forecasting charts suggest the current year of the Fire Rooster promises much, and especially in terms of wealth luck.
This issue is our Chinese New Year Special, in which we feature a ton of invaluable information to ensure everyone reading our magazine will be well prepared to receive all the good fortune coming our way. Some of the good fortune is dependent on your animal sign, others on your home orientations, especially the compass location of your most-used rooms.
The great thing about feng shui – something we have stressed and built on over the years - is that whatever our animal sign and whatever orientation our rooms and our home direction may be, there is always a way to manipulate and strengthen the good fortune essence flying into any home by using powerful talismanic cures and placements that blend harmoniously with the energy of the animal sign and the home.
We try to make it as simple as possible so that even the most casual of feng shui practitioners can easily apply the recommendations we make based on a living skill that is thousands of years old and which continues to be so relevant in this day and age.
Lillian Too's recent Feng Shui Extravaganzas were an absolute blast, first with Singapore then in Kuala Lumpur. The crowd was made up of friends, fans and followers from all over the world, adding a lovely cosmopolitan flavor to the crowd energy, which was wonderfully alive and vibrant. Lillian shared so much precious advice and knowledge not available anywhere else. We feature some of this within, but for those who missed the Extravaganzas, you can access the full seminars online via www.wofs.com.
Meanwhile, as you enter the Rooster Year, we bring you features on some of the world's most prominent Rooster Ladies. The Rooster transforms into the celestial Phoenix under the right circumstances, a bird full of regal majesty and splendor, and these ladies epitomize all that is imperial in their birth sign. Ivanka Trump is looking very much like the new queen of Washington and the US, Kate Middleton a future queen of England is also Rooster-born, while Natalie Portman who plays Jackie Kennedy could well bag an Oscar for her incredible First Lady role and thus becoming the year's Queen of Moviedom. Cate Blanchett and Helen Mirren who both won huge accolades for playing Queens are also Roosters, as is the new Royal girlfriend, Meghan Markle, who seems to have truly captured Prince Harry's heart. Their stories make for insightful reading, especially when you look at the way their Paht Chee luck pillars bring them so much luck. All 1981-born Roosters can expect something especially special coming their way.
We also had the 4th International Festival of Classical Music organized by The Chopin Society of Malaysia in December. Spearheaded by its visionary Musical Director Professor Snezhana Panovska, amongst the week's schedule of master classes, workshops and concerts was a world-class recital featuring Jean Muller from Luxembourg, a music maestro playing the best of Chopin and Mozart. It is truly wonderful work that the Chopin Society is doing to provide opportunities for our talented young musicians. In feng shui, there is nothing quite like music to awaken the soul and to bring wonderful vibrations into any space.
Elsewhere, we take a look at the recent spate of bad luck Kim and Kanye West have been through. Hanni Lim investigates and discovers some terribly bad feng shui features afflicting their main home in Los Angeles. Readers can learn what to avoid when it comes to investing in a home.
Our Paht Chee feature by Phillip Lim looks at combining good and bad stars, and we also study the chart of Hollywood's latest it girl Felicity Jones, who recently starred as rebel fighter Jyn Erso in the new Star Wars film, Rogue One. She has just entered a marvelous ten year Luck Pillar, which indicates more big roles coming her way!
Dato Kee Hua Chee interviews Dato Sri Rozita Ramelan for our personality piece, a dynamic business lady who owns Kabinet Prive Salon, which carries exclusive Hermes Birkins off the shelf; these come with exclusive price tags so our feature come with her views on selling to the super-rich; she also owns the Pappa Rich chain of restaurants, which offer yummy local fare at down-to-earth prices!
Our travel feature has Helen Oon taking us to Vatican City, a feast for the eyes and also for the spirit. The architecture is unbelievable, and for Catholics, a visit to the Vatican City is a pilgrimage – a once in a lifetime journey to the center of their faith. On this side of the world, Lillian Too takes a group to Katmandu, Nepal, who were especially fortunate, as they also had Khenpo Delek Rinpoche travel with them, and he took them to the sacred forests of Partping where views of the entire valley of the Himalayas are breathtaking. Lillian shares the experience with readers.
And as we enter the new year, Shahreen Kamaluddin talks about how powerfully lifting the act of forgiveness is, while Dato Halimah Mohd Said takes a serious look at making New Year resolutions. I'd also like to introduce our newest columnist Lulu Lee - she is your benchmark modern practitioner of relaxed feng shui, a believer and skeptic at the same time. Hailing from traditional but English-speaking Chinese roots, feng shui is something that has always been part of her daily life and consciousness, but perhaps not a huge part. We find her musings on being a reluctant practitioner interesting indeed and have roped her in to lend her voice to our broad-based feng shui magazine.
As we enter New Year, Gong Xi Fa Cai. We wish you a wonderful and lucky Year of the Fire Rooster. May your life be smooth, your health wonderful and may all your wishes come true!