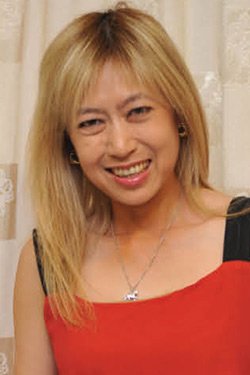 Dear readers,
The last month has been short but hectic, full of celebrations on all fronts. We entered the Year of the Rooster observing all the customary traditions, first ensuring all the new enhancers and cures are in place by the advent of Spring on Feb 4th and then we welcome in the new Lunar Year with all the appropriate rituals. Many of these Chinese New Year rituals are similar from year to year, but it is important to recognize the differences.
This year, the lions performed the Lo Shu dance to empower the Bird, the alter ego of the majestic Rooster, thereby making sure that whatever aspirations we send forth into the Universe will actualize. Extra lanterns were also hung to please this year's God of Heaven and we also made special efforts to pay homage to the Moon Goddess on the night of the 15th.
But Chinese New Year was a time of back-to-back travel for us. Our family's annual pilgrimage to the mountains took us back to Vail in the US. This coincided with Donald Trump's first month as President and he was all over American television channels.
He seems to have taken his reality-TV style persona with him into the White House, and of course the media had a field day featuring various aspects of their President! American TV can be entertaining but at times also alarming. We watched with some trepidation as Trump's new immigration policies of extreme vetting brought forth howls of protests and demonstrations. We were camped in the Colorado Rocky Mountains in the heart of America, but yes, we felt the political tremors!
It was also the time of the Superbowl, which threatened to be thwarted by a divided America. Their halftime show star was Lady Gaga, who had publicly cried and protested when Trump won the election. Meanwhile, the real star on the pitch, Tom Brady, is publicly known to be close to Donald Trump.
We carry stories on Tom Brady and Lady Gaga; both mega superstars in their own fields and who both successfully generated a united and nationalistic feeling at America's sporting event of the year. We enjoyed our time in the US very much indeed but are now back home in Malaysia, and once again watching their politics from afar. It sure makes for an amazing reality show.
We commissioned a story on the feng shui of the White House to try and ascertain why Donald Trump is having such a hard time, especially with the media. He does appear combative and quarrelsome, and of course, we attribute this to the #3 star in the West and the POTUS works out of the West Wing!
But we wanted more! Read Hanni Lim's excellent piece of feng shui investigative reporting. Her careful scrutiny of the layout of the rooms within the Official Residence of the US President reveals some glaring taboos, shedding light on why even past presidents have had the problems they've had. Trump has been reluctant to live in the White House and his instincts seem to be spot on.
Meanwhile, we note that February is Awards season and as we go to print, the Oscars are around the corner. Here La La Land looks to be the frontrunner, having swept just about every Award show, but truly, the movie you must not miss is Manchester By The Sea. The movie's leading man Casey Affleck, Ben Affleck's brother, puts in the performance of a lifetime and deserves to win, but whether he does or not depends on so many factors. We study his Paht Chee and hope that his current auspicious Ten Year Luck Pillars are enough to overcome the blight on his past. Hopefully we shall see more of him in the future. He is so watchable, and how nice it would be to have him become truly A-list!
Lillian Too spent Chap Goh Meh at home, but was very quickly on an airplane again, this time to London for a series of feng shui consultations. She took her grandniece Kate with her and happily played tourist, showing her the major sites of London, while simultaneously getting a closer look at the feng shui of this vibrant city.
The British monarchy has never been more popular, and with the profusion of carefully depicted symbols located at and around Buckingham Palace, it is not surprising. We carry a story on the royal 9 lion crest and explain some aspects of British-style symbolic feng shui. Our travel correspondent Helen Oon meanwhile visits Madrid, Spain, another heritage-rich city full of symbols and rituals to bring prosperity, abundance and harmony to the locals.
On a more serious note, Lim Han Jin had a major scare over the New Year period, walking away from a car crash that could have ended in tragedy. It was a miracle he came away with barely a scratch, but the accident gave him a wake-up call and also renewed faith in the multitude of protective amulets he was wearing and carrying.
In his story Thank Heavens for Amulets!, he shares his experience, with a warning to anyone born in the Year of the Horse, or facing afflicted stars this year, to ensure they carry amulet protection and install all the appropriate cures. Because amulets really can save your life!
As we move into Spring, we also bring you Darren Yeo, the man behind Orchid Culture, who has made the orchid so incredibly popular. He explains why this exquisite flower is fast gaining acceptance with the younger generation, as well as becoming the flower to send to celebrate all the special occasions of our lives. His elegant boutiques in the up-market malls around KL filled to the brim with all kinds of orchids have really made their mark. He has set his sights on expanding into the other states and eventually into international markets as well.
We also feature Albert Lim, another young man going places. Son of Tan Sri Lim Kang Hoo founder of Ekovest Iskandar Waterfront Holdings, he is following in dad's footsteps in the property business but also indulging his other passion of watch-collecting, a hobby that draws father and son closer beyond the boardroom.
The harried pace of modern living reminds us to consciously slow down. Our piece on Mindfulness is a reminder that there is great value in making a habit of stopping time to live in the NOW and soak oneself in the things that really matter. This philosophy – learning to be mindful - is fast catching on as the new in-thing with people of all ages, although of course it is an age-old concept rooted at the core of Buddhist meditative traditions.
Shahreen Kamaluddin talks about how to amplify one's positive vibrations, while Phillip Lim shares his passion of keeping cats, which bring benefits way beyond just having a pet to stroke and cuddle.
Happy reading and remember to welcome in the Spring with a new plant!