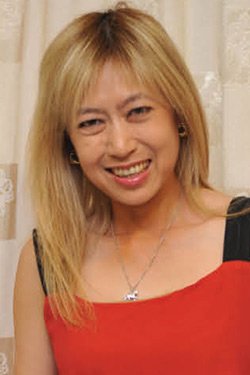 Dear readers,
The Year of the Sheep starts pretty late this year, with Chinese New Year falling near the end of February. This makes the beginning of March still a part of the auspicious first fifteen days of the Lunar New Year. This means there is no Lap Chun this year, making it auspicious for us to boost all things associated with Spring, bringing into the home the growth energy of thriving plants and better still with flowers blooming and where possible also bearing fruits. It is timely to place focus on making whatever garden you have thrive.
Lillian Too has been planning the landscaping of her property since December, and over the past few months, she has been gradually implementing bold new changes to revitalize the outside of her home, with a view to bringing more of the outdoors, indoors. Her story on how she does this will give you some practical ideas to build on.
Another way you can introduce vibrant growth energy into the home is by using the medium of auspicious art. We bring you a feature on Chinese brush paintings, a traditional art form whose mastery lies in the strength and control behind each brush stroke. As well as the aesthetics, master artists of olden China were always mindful that the subject matter of their paintings symbolized auspicious meanings. When hung up on the walls of homes, offices and public places within buildings, they then serve the dual purpose of being pleasant to the eye, but more importantly, to attract good fortune for those living or working within.
Growth energy is vital, but in 2015 so is Fire energy. Of the five elements, Fire is most lacking in the year's Paht Chee chart. Fire energy is also what can subdue the dominant #3 Argument Star of the year, so we bring you some handy Lighting tips to help you plan the most optimum display of lighting in your living areas.
In this issue, we are putting the spotlight on Katy Perry following her fabulous Superbowl halftime show this February. Katy Perry's career has skyrocketed since bursting onto the world scene back in 2008 with "I Kissed a Girl", and since then she has produced hit song after hit song, with many of the themes to her material being strongly motivational and also quite empowering.
This has earned her the top spot on social media in terms of number of followers, and also gotten the internet rumour mill buzzing over her connections to the mysteriously powerful Illuminati, a group of mysterious power brokers generally associated with the dark side! She has denied it, though she says, "If really there is such a club, please invite me, I would love to join!" We do not know if she is indeed benefitting from some mysterious mentors, but from a feng shui perspective, her Paht Chee reveals some very interesting things about her life so far, and for the year to come as well. She is a Rat-born, which indicates 2015 will be very good for her. For more on this super-talented performer, check out our story on her.
Closer to home, Helen Oon talks to Dasha Logan, the daughter of the late Loganathan Arumugam, better known as Loga, former lead singer of the Alleycats, a pop band that enjoyed near legendary status in Malaysia in the 1970s. Dasha is carrying on the dream and successfully making strides in a solo singing career. Her new single "Cleverly" attained the No.1 spot in the UK Soul Chart, and stayed there for 9 days! She plans to continue working in Malaysia and in the UK where she has the good fortune to be represented by AreaBoy. She has a velvety voice, which together her sparkly personality and the astrological Victory Star in her corner this year, are sure to bring good things for this Rabbit-born.
Our travel features cover two different destinations. Helen Oon takes us to Madeira, Portugal also known as the "Pearl of the Atlantic", a volcanic island rising from the North Atlantic with a rugged coastline, surrounded by frolicking dolphins and lined with streets filled with upmarket fruit stalls and artist-painted heritage doors. Helen describes it as "one of the most beautiful places I have ever visited."
Lillian Too meanwhile leads a pilgrimage to the Holy City of Bodhgaya in India where Buddha attained the state of Enlightenment, understanding the nature of reality. This time her group – 21 people from 10 different countries - comprising mainly newcomers to the pilgrimage experience but with the gentle guiding hand of Lillian and her personal Guru, Khenpo Delek Rinpoche and his brother Lama Kunchok, she is overwhelmed as she watches how they are each individually transformed by the bliss of the spiritual energy of Bodhgaya. Lillian describes the experience as meaningful and beautiful.
For our practical feng shui features, Honey Lim case studies a doctor's clinic, highlighting directional feng shui and how you need to be creative to come up with solutions that can make the lucky directions work for you, even when practical problems may at first seem insurmountable. Chris Yeo focuses on apartment renovation tips to make your living space grow with you. When you move into your first apartment or home as a bachelor, your needs will be different from when you get married, have children and so forth. Planning ahead allows you to enjoy your home to the fullest, while avoiding the wastage of unused rooms and corners.
Our reluctant socialite Julia Jamal-Bahadur philosophizes over the recent tragedies of the past year. While it is easy to sit back and say, well what can one person do, she argues there is indeed quite a great deal one can do. Her positive attitude is infectious, and her gentle prodding is convincing. Have a read. You just might be inspired by this very thoughtful lady who also writes extremely well.
As we put this issue to bed, we are getting ready to welcome in the Lunar New Year, so once again, we wish you a very prosperous new year, a joyous Chap Goh Meh and Happy Valentine's Day.
Lovers, stay happy and stay loved!