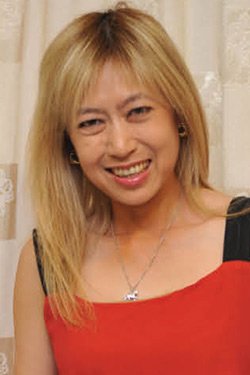 Dear readers,
This end-of-year issue is the beginning of exciting times for all of us at Feng Shui World. From the next issue, which comes out in January 2014, FENG SHUI WORLD will become a monthly! The magazine has attained maturity having been around for over twelve years, so we are confident that we have evolved into exactly the kind of magazine which places feng shui beautifully within its lifestyle perspective. Feng shui is about luck but it is also about how we live, how we react to the forces around us and how we can use an ancient living skill to enhance our modern way of life.
Going monthly means we can now bring you timely astrological and feng shui updates as well as current news written around a wide range of contemporary stories that showcase the latest shows, new global heroes and fresh developments in fields that affect our lives. We are an Asian-based magazine operating out of Kuala Lumpur, but our reach is global and we like to think of ourselves as a magazine that is in sync with current trends, hence the word WORLD in our title. Everyone's feng shui is continuously affected and influenced by cycles of changes that occur over time. Today's world is transforming at a faster rate than ever. It is hence time for us to go monthly and we look forward to your continued support.

This issue we feature two excellent case stories from Honey Lim who is fast becoming our in-house consultant. Here she dissects some common problems encountered in practical feng shui. Drawing on a couple of recent real-life consultations as working examples, she highlights important nuances in feng shui, pointing out where mistakes can easily be made when applying formula feng shui to difficult layout plans. Mistakes in application can lead to tragic consequences. These feng shui feature stories are important reading material for anyone actively using feng shui.

Meanwhile, Lillian Too identifies the three powerful matriarchs of global finance, Christine Lagarde, former French Finance Minister who now runs the Washington-based International Monetary Fund, Angela Merkel, the Chancellor of Germany, and Janet Yellen, currently Vice Chair of the Federal Reserve Board of the USA who will soon take her place as the next FED Chairman following Obama's nomination for her to be Bernanke's successor. This trinity of women holding the world's economies in the palm of their hands attests to their roles as monetary gatekeepers of the Period of 8, bearing out the theory that the Direct Spirit in the NE favours young men to lead, while the Indirect Spirit in the SW favours mature women to hold the purse strings! And here in Malaysia, the governor of our central bank, Bank Negara, Tan Sri Zeti Akhtar Aziz, is also a woman.

Entertainment is very much a part of our lives, so the latest hit makers are always big news. This time around we put our focus on the big winners of this year's Emmy's, the Oscars of the Television World. These days movies have become big spectacular productions, but many of us still love the good old addictive story, and for this, nothing can beat today's network television. There are plenty of raw, passionate and edge-of-the-seat thrillers coming out of Hollywood. Today's television dramas and spectacular reality shows offer a treasure trove for daily viewing. We are recommending Breaking Bad, a modern day fairytale with a dark twist. Follow the story of how a humble chemistry teacher evolves into a drug lord and watch superb acting at its unexpected best! The five series show is so good it even prompted the great Anthony Hopkins to send unsolicited thumbs up to the show's lead actor.

We also feature Polish architect Robert Konieczny, whose ultra-futuristic homes are making waves in the industry. Can his extremely hard-lines be considered good feng shui? Why strangely yes; in fact, his works can be described as yin and yang at its finest. From the outside, the cutting edges ward off unwanted guests, but if you're invited, his homes open up to deliciously plush interiors. Closer to home, Chris Yeo talks us through the recent extensive renovations at the World of Feng Shui flagship store at MidValley Megamall Kuala Lumpur, as well as new brand Kingdom of Shambala, which occupies the enlarged mezzanine level, and which offers all kinds of goodies from the Land of the Snows and beyond.
We also want to draw our readers' attention to the plight of the elephant. Yes, these gentle giants of the animal world need the world's awareness of the grave dangers facing them on a daily, even hourly basis. Statistics show that one elephant is being slaughtered every fifteen minutes for their ivory. We want to urge everyone to SAY NO TO IVORY! The killing of our elephants in Africa and Asia is brutal, heartless and inhumane; these poachers saw off the ivory tusks when the elephant is still alive! We decided not to carry the horrific pictures depicting the slaughter, but we do want to lend our voice to help save the precious elephant from extinction. Please, please tell everyone!

On a happier note, we want to say that we look forward to seeing you all at Lillian Too's Feng Shui Extravaganza 2014, happening in Singapore on Sunday 1st Dec, 2013 and in Kuala Lumpur Malaysia on Sunday 8th Dec, 2013. Please note we are holding these MUST-attend events in December because Chinese New Year comes earlier in 2014...

If you haven't yet bought your tickets, you can still get them online at www.wofs.com or www.sistic.com.sg or at any MPH Bookstore or World of Feng Shui outlet.

Have an enjoyable Christmas and New Year. And don't forget to get your Fortune and Feng Shui 2014 to investigate the outlook of your animal sign for the coming year of the Wood Horse!