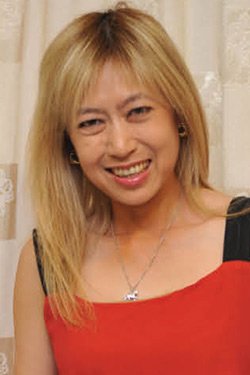 Dear readers,
We shall soon be entering into the second half of the year and hopefully, as predicted by the year's Paht Chee chart, the energy of the world will improve drastically. The past months have been brutal with the terrible earthquakes in Nepal bringing the most tragedies but there was also violence and other hostilities around the world, the Germanwings aircrash and now in our Malaysian waters, we are reading about the horrific suffering of the Rohingya refugees. These are a frightened people running away from persecution. They have been abused and tortured, taken advantage of and suffering acutely. As I write this, I am praying alongside many others that a humanitarian solution can be found to help them. We pray the second half will bring less suffering than the first half.
The signs are good and we are keeping this issue upbeat as we bring you some wonderful success stories and introduce you to some genuinely great people.
To start with, Lillian Too introduces readers to her new friend, Satish Kumar Modi, billionaire philanthropist and author of an exciting new book "In Love with Death". Lillian hosted a private luncheon through good friend Joan Foo Mahony to chat with him after meeting him at his Book Launch in Kuala Lumpur and in her words, it turned out to be one of the most interesting two hours she has had in a long time. Read all about the conversation she had with him and his wife in her ever-popular Life with Lillian column.
Elswhere, she brings us never before revealed concepts relating to the 8 aptitudes, classical teachings from the I-Ching that are the hidden highlights of the eight trigrams placed around the eight sides of the Early Heaven Pa Kua. Together with the 5 core values of life – kindness, courage, integrity, respect and dependability – they sum up what makes an honourable man within the context of Chinese values, and the tenets that make up the wholistic man. We also bring you some background on the 5 Wise Men of China, philosophers who have attained legendary status for the influence of their doctrines, which have lasted until today.
China's influence on the world is surely growing. In the world of art, film and fashion, this is gloriously showcased at the Metropolitan Museum of Art's current exhibition entitled "CHINA: Through the Looking Glass." This was also the theme for this year's MET GALA ball, which saw movie stars, pop stars and the entertainment world's movers and shakers put their best Chinese foot forward. In fashion, you can be as creative as you want, and the successful amalgamation of East meeting West by today's top Designers was a visual treat. We bring you the pictures!
The biggest unifying theme in Chinese culture is the prolific use of good fortune symbols, which were on grand display in the Western versions of Chinese couture at the Met. But we explore also the symbols that emerged in the pictures of the recent Coronation Ceremony of HRH Tuanku Raja Nazrin. This event held in our Northern Perak State also showed some powerful symbols and good fortune regalia that so resonated with us! We are also admirers of the new Perak ruler and you will be too when you read our story of his Coronation and his views on the Monarchy in modern Malaysia.
Meanwhile, our travel correspondent Helen Oon takes us to Andalusia in Spain, pointing out some very familiar symbols of auspiciousness featured in the cathedrals and palaces she visited there. It does seem that the Chinese are not the only ones who believe in the power and beauty of symbols.
Our case study this month reveals the dangers of facing directions described as Death Lines and Emptiness Lines. In her story, Hanni Lim explains how these can often be the cause of inexplicable bad luck. This dimension of space feng shui is not difficult to diagnose, but you need the help of a well-constructed Luo Pan. Her article shows you how. Chris Yeo meanwhile differentiates between function and use in home design and highlights with some examples.
The big story of the month has to be the birth of Britain's Princess Charlotte, and in response to many requests, we did a detailed reading of her chart based on the Four Pillars of her birth announced by Buckingham Palace. I shall say here only that she has amazing life ahead of her! For more, go straight to her birth chart reading!
We also bring you our latest heartthrob, the achingly handsome Thor star himself Chris Hemsworth! Of course, we know he is everyone's favourite superhero, but what we are really waiting for is his upcoming movie "In the Heart of the Sea" where he takes on super whale Moby Dick. We cannot forget his award-worthy performance as James Hunt in Ron Howard's Rush, speaking of which, we also feature current F1 hero Lewis Hamilton, whose Double Red Stars on his signature bespoke helmet is likely to activate the Double Big Auspicious luck in his chart this year. We are predicting he will win the World Championship a second time this year.
Before we leave you to enjoy the issue, don't forget to buy your tickets to Lillian Too's SPIRITUAL FENG SHUI event before the Early Bird offer ends. At this year's event, to be held on Sunday 2nd August 2015 in Singapore and 9th August 2015 in Kuala Lumpur, Lillian is planning to share some super cosmic methods on how you can transform the ordinary space of your home into extraordinary sacred space! It is these cosmic methods that are the real secrets of feng shui, and knowing them is how you can make all your feng shui applications more potent and more fast-working than ever.
Tickets available at www.wofs.com as well as through SISTIC in Singapore, and MPH Bookstores in Malaysia and Singapore.
We hope to meet many of you soon!