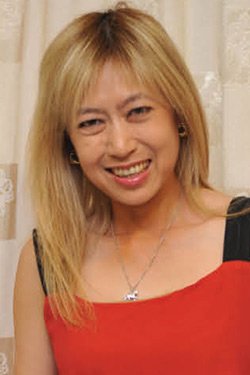 Dear readers,
This is our Spring issue and it is now a good time to observe how 2014 is panning out, for us here in SE Asia and for the world. What stands out the most as we put this issue together is how incredibly dry the last two months have been. Malaysia where we are based experienced water rationing for the first time in years and households in the Kuala Lumpur area were forced to stockpile water for daily living needs. Fields and gardens everywhere turned brown, forest and peat fires brought back the haze, air quality turned seriously bad, the population suffered a variety of ear, nose and eye infections. Schools were forced to close and outdoor activities got suspended. We are a very rainy country and for as long as ever we have taken the availability of water for granted. This has been a major wake-up call! And even as we go to print, we are all praying for the safety of passengers on Flight MH370... it has not been a nice March.
Looking back at Lillian Too's 2014 predictions, they have never been more accurate. Honey Lim documents this in her story analyzing the drought, with a spiritual solution that everyone can participate in to reduce the phenomenon of excessive FIRE this year. Praying collectively works miracles and hopefully extreme weather patterns will ease. The other issue on our minds currently is the fate of missing MH370 Malaysian Airlines Boeing 777-200 that was headed from Kuala Lumpur to Beijing. The plane went missing Sat 8th March and while we want to resist adding to the chatter on how such a large plane can go missing, we marvel at the countless theories that have surfaced in mainstream and social media.
The missing plane phenomenon has captured the imagination of the world; it is like a real-life reality version of LOST but in the midst of all the speculation, we should not forget the most important perspective of all, the suffering of those on that flight (are they alive and are they well?) and also the suffering of their loved ones, enduring the agony of the unknown. It is easy to criticize those on the frontline and to mock those working round the clock trying to make sense of the disappearance; we guess it is less easy to be patient.
This crisis is unprecedented; as onlookers sharing the agony and grief, all we can and should do is to to keep praying for the safety of those onboard. I have two very dear friends who have family on board that plane. I cannot even begin to imagine what they are going through. So please just keep on praying for the best, because as long as there is no concrete news, there is still hope...
Life carries on of course, and on a happier note, following the spectacular Oscars Show hosted by our favourite host, Ellen DeGeneres, we bring you some superb stories on Hollywood's rising stars. We analyze the sensational Lupita Nyong'o's name to see if her meteoric rise to global fame lies in the numerology of the letters of her name. Another aspect of this year's Oscars is how the glitz and glitter seems to have increased with plenty of bling gracing the red carpet. Best Actress winner Cate Blanchett dazzled in her jewels, as did many other equally successful leading ladies, proving the point that nothing bolsters good fortune more auspiciously than the wearing of fine jewellery.
On this note, April 2014 also marks the 15th anniversary of the Lillian Too Auspicious Jewellery line in collaboration with OE Design. Fifteen years ago, Ong Li Dong met Lillian Too at one of her Feng Shui talks organised by the MCA. That was when the two ladies conceptualized the Lillian Too Fine Jewellery collection. Both agreed that the line would comprise auspicious feng shui symbols of good fortune made as the finest quality jewellery and manufactured to the highest standards. This combination of luxury and luck has grown from strength to strength. There are now over 180 unique pieces in the collection. We chart the growth of the brand in our story inside. Meanwhile, OE is celebrating these 15 years with very special offers and deals to commemorate this milestone.
Our travel section follows Lillian Too on another of her incredible pilgrimages, this time revisiting Bodhgaya before going on to Dheradhun where Khenpo Delek Rinpoche and his brothers take her and her small group of friends to Mount Mussoorie to perform the incredible RIWO SANGCHO or mountain smoke incense ritual, before releasing a hundred thousand Windhorse flags into the blue skies above. Helen Oon takes us on a different journey nearer home, to the Frangipani resort in Langkawi, which focuses on the greening of the environment.
Phillip Lim introduces us to the science of birthdate numerology, a technique based on placing the numerals of your date of birth within the Lo Shu Magic Square to gain insights into your aptitude, abilities and inclinations. In Sports, Lim Han Jin brings us an overview of the start of the Formula 1 season indeed; he makes predictions using the astrological indications of the driving aces although he does point out that with new rules and regulations in place, anything can happen. Chris Yeo brings us valuable tips on home design, putting the spotlight on bathroom feng shui. And for those of you planning to say "I do", our piece on how to decide if your current guy is right for you gives a useful checklist for astrological investigation of your compatibility.
I end on a note of optimism that the coming month will bring us some really good news. Till then, have a great start to Spring!