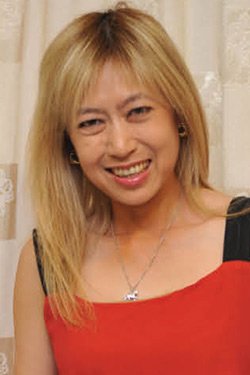 Dear readers,
The last quarter of the year is always an incredibly busy time for us here at WOFS, but also an exceedingly exciting one. This past month we have been gearing up for the Wood Sheep Year of 2015, which holds a lot of hope and promise especially after a somewhat turbulent Year of the Horse. The feng shui enhancers and cures for the New Year have been arriving at our headquarters weekly, and they are simply beautiful. They have been painstakingly designed and quality-checked by Lillian over the course of the last few months, and we are delighted to share some of these with you in the pages within.
As we become more global in our reach with the digital version of our magazine, our Lillian Too Mandala Ezine and our WOFS newsletters, we have also been improving our info portal www.wofs.com and our shopping website www.FSMegamall.com scouring better deals for our customers with shipping and pricing. We have also made our sites compatible for iPhone and Android smartphone users, so you can get your feng shui tips and updates on the go!
This past month saw Lillian Too kickstart her newly-revamped Master Practitioners and Consultants Courses with two groups of very capable practitioners coming from all over the world to further their knowledge in this incredible living skill. We bring you highlights from these two graduating classes. There are lessons to be gleaned from their personal success stories, as well as from some of the pitfalls they have experienced. A little knowledge can be a dangerous thing; Honey Lim highlights this in her article "Master Hopping" with some bizarre stories of "certificate collecting" and "amalgamated formulas." This is the crux of Lillian's new curriculums – to establish a much more solid foundation for her students, so that no matter where they go or what they learn afterwards, they do not meet similar snags in their onward practice.
An important offshoot of the study of feng shui is astrology and destiny analysis. In Honey Lim's case story, she brings these together using twins as her subject. How can two people born just minutes apart – and thus carrying extremely similar personal Paht Chee charts – end up leading such totally different lives? She explains the influence of the Feng Shui Pa Kua using a real-life example of two twin boys and the house they lived in.
With exteriors, we highlight the proliferation of what has become popularly known as "Modern Architecture", which features bold lines, gravity-defying shapes, floor-to-ceiling glass and infinity pools. These may make homes and buildings look futuristic, but what are the feng shui implications? Lillian Too gives her take. For interiors, Chris Yeo addresses the lighting aspect in interior design and architecture; what type, temperature and shapes should you select for your lamps and lights? He explains why lighting can have such a dramatic impact on the effect you end up creating.
The year-end has also brought us some brilliant movies. We feature Rosamund Pike who stars alongside Ben Affleck in the blockbuster Gone Girl, and Luke Evans who brings a new spin to the age-old Dracula tale in Dracula Untold. Rosamund Pike is a Horse bordering on a Sheep, while Luke Evans is a Sheep proper. We predict an upsurge in their careers from a destiny-analysis viewpoint, but also admire their raw talent, which seems to have really come up a notch with their latest new films. Then there is also The Hundred-Foot Journey starring Helen Mirren, a gem of a film that needs to be watched.
We continue to feature Malaysians who have made it on the world stage, and this issue Helen Oon talks to UK-based music maestro Dato Ng Kah Ming. So far he is the only South East Asian holding a PhD in Music from the University of Oxford, and the only Malaysian to have been given a full-page feature in the UK Financial Times. He shares his dogmatic pursuit of his dreams and reveals some clever feng shui features incorporated into his home in Oxford.
As we enter the tail-end of the Horse Year, we also bring you Cavalia, the fabulous Show by Normand Latourelle, an original founder member of Cirque du Soleil. Their recent run in Singapore featuring the world's largest travelling tent and some of the world's best acrobats and most well-trained and beautiful horses took our breath away; this is a show you cannot miss if it ever comes to a city near you. Their next stop is South Korea.
Before leaving you to enjoy the issue, don't forget to book your tickets to Lillian Too's Feng Shui Extravaganza 2015. She begins her tour in Miami at the Westin Diplomat Resort in Hollywood, Florida on Dec 20th & 21st, followed by Singapore at Suntec City on Sunday 4th Jan 2015, and Kuala Lumpur at the Hotel Istana on Sunday 11th Jan 2015. Tickets available through Sistic (www.sistic.com.sg), www.wofs.com and www.tuticket.us (Miami).
For those who will be in Malaysia in December, we will be holding "Very Merry Christmas Specials" from 6th - 26th Dec 2014 at our World of Feng Shui Flagship Store at MidValley Megamall. We will also have an official unveiling of our NEW CREST on Sat 6th Dec amidst a fun-fair theme with caricature artists, wish-balloons, door gifts, lucky dips and a lot more! Hope to see you all there!!!
Have a fabulous November!