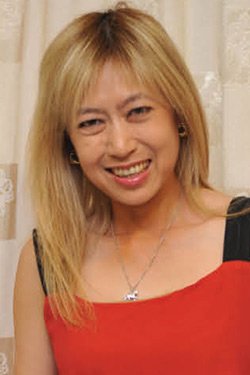 Dear readers,
February is the month of the Chinese New Year this year, and these are the most important 15 days of the year. According to Chinese tradition, it is believed that whatever one does in these 15 days will impact one's luck for the rest of the year. The first day of New Year falls on Monday Feb 8th. It is important to get things right from then till the end of the festival on Chap Goh Meh on Feb 22nd, the night of the year's first full moon. Thus we have put together a Chinese New Year special that incorporates a day-by-day planner that details the important rituals for each day, and also highlighting the best days for different significant activities such as when to host parties, when to lay low, when to restart work, when to visit friends and so forth.
This past month has been extra special for all of us here at WOFS and Feng Shui World because Lillian Too celebrated her 70th birthday! She began the celebrations with her Extravaganza audiences in Singapore and Kuala Lumpur, who sang her happy birthday, and who together with her students from around the world, sent heartfelt video and email messages to wish her a glorious birthday. Hanni and Han Jin put them together in a presentation for her party which brought tears not just to Lillian's eyes, but dare I say to everyone with us on that night of the 11th.
The birthday party was something else! While we like to celebrate everything – a doctrine that is part of Lillian's mantra of living maximally – this year because it was a "milestone" of sorts, friends from around the world flew in to join her at her home for a glorious night under the stars. Her garden was transformed into a miniature paradise garden strung with laser-like lights that simulate the reawakening of the good force… and decked out with a dance floor with long banquet-style tables. We had an amazing band whose playlist got everyone on their feet, including Lillian, who danced the hardest and the longest at the insistence of dance partner after partner! It was honestly wonderful seeing her so happy and energized!
A group of her friends led by the exceedingly talented Juanita Lee put together a couple of dance numbers to the tunes of Diamonds are a Girl's Best Friend (fitting, as it echoed Lillian's advice this year to wear lots of diamonds, the biggest you can afford, to enhance much-needed Earth energy!) and Sway, dressed in super auspicious red. Khenpo Delek Rinpoche and Lama Kunchok also made a special visit, leading powerful pujas on the morning of the birthday followed by animal liberation of birds and fish destined to be food for larger pets.
Another of Lillian's friends - who cancelled two previously arranged engagements to come all the way from England – was the sparkling Carmel Greenwood, whose famous laugh she actually puts in a can and sells! In real life, her laughter is even more infectious! Carmel and Lillian have been friends since Hong Kong days when both worked in the financial sector there – today they have both switched careers into what Carmel terms "spiritual paths of service" – and in this issue, she contributes her own account of what their friendship means, which she believes spans not just over the last 30 plus years but through many lifetimes.
February is also Oscar month, with nominees announced as we go to print. We feature Leonardo DiCaprio, frontrunner for Best Actor in his role in The Revenant, because we feel he most of all deserves an Academy Award, something that has eluded him thus far in his long and prolific career. We take a look at his charts and make some noteworthy findings – his Paht Chee features the Earth Cross and his birthday falls on 1111, not unlike Lillian Too's 111 birthday! We also feature the glamour and glitz of the recent Golden Globes, a prelude and predictor to what will happen at the Oscars come Feb 28th.
We would also like to extend our heartiest congratulations to our contributor Dato Halimah Mohd Said, who was recently conferred the Darjah Dato Paduka Negeri Sembilan on 14th January 2016. This issue she continues her column on lessons from her parents with the distinction made between right and left. Yes, right may be "better" than left according to her family's cultural belief systems - something she adheres to because it was how she was brought up - but also something worthy of thought and discussion in a more philosophical context.
Another of our contributors Katherine Kuan offers up some really wise advice on how to deal with feng shui afflictions the Lillian Too way. Difficult is not always impossible, and sometimes it is how you perceive things. She is proof it works.
In Phillip Lim's Paht Chee column, he introduces the "Talented Stars", said to be a representation of the 6 famous Apsaras from Hindu and Buddhist mythology. If one of these appears in one's chart, they are said to indicate inborn talent in the arts of entertainment. He shows how you can spot if you have this in your chart. Hanni Lim's case study spotlights the studio apartment and how you can achieve good feng shui even when the space you are working with is limited. Chris Yeo talks about the importance of lighting and temperature control in the interior design process, two things that may be overlooked in the zealous quest for aesthetics, but which should not.
Our travel feature takes us to Florence, Italy in Helen Oon's footsteps. From the treasure troves of art to the historically seductive architecture, it is a city well worth a visit. Helen also meets Yang-May Ooi, a Malaysian bestselling writer and stage performer based in London, who believes that sometimes small acts of rebellion can create powerful and necessary change.
To round off the issue, we recap all the most important tips and recommendations from Lillian Too's Feng Shui Extravaganzas, so you can make the most of what the coming year can offer.
Gong Xi Fa Cai to everyone! We wish you much health, new wealth and happiness in this year of the Fire Monkey!