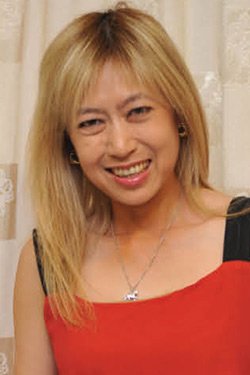 Dear readers,
As we get ready to move into the New Year, we are mindful that although 2016 is a FIRE Monkey year, it will nevertheless be ruled by the ominous black star 2, which takes center stage in the feng shui chart of the year; this makes the coming 12 months a Black Year, not exactly a promising prospect! It will be a year when everyone needs to take extra care of illness energies sweeping across the globe…
Those who are optimistic, as we tend to be, can see the black 2 as an improvement over the current year's horrific ruling star of 3, which brought so much unbridled anger energy. Last month when the year 3 was joined by the misfortune star 5 in the center of the chart, we saw unprecedented tragedy and grief brought by terrorist activities that caused all to wake up to the new danger that threatens the world.
In Paris, Beirut, Mali, Baghdad, terror attacks occurred, a Russian civilian plane got shot down and even as we go to press, we see the borders of Europe quivering to new threats. In the air, warplanes retaliate with fierce bombings and the skies rain down death into terrorist hot spots in Syria and Iraq… we surely are living in extremely dangerous times!
It forces us to not just be vigilant in the way we spend our Friday nights and weekends and holidays, it has now become more imperative than ever to wear what we here in the East have always believed in – the power of SPIRITUAL AMULETS that create protective auras around us, ensuring we are NEVER at the wrong place at the wrong time! Not just for us, but our families and dear ones too must be kept safe.
Hanni Lim covers the attacks in her story Terror in November, noting the uncanny convergence of unlucky flying stars last month. Those of you who have not yet obtained your tickets to Lillian Too's Feng Shui Extravaganza 2016 – Sunday Jan 3rd at Suntec City in Singapore and Sunday Jan 10th at Hotel Istana in Kuala Lumpur – we encourage you to book your seats now. Make the time investment of one day with Lillian. Let her share vital and important points about the coming year of the Monkey and give you new information on how to take fullest advantage of the Big Auspicious stars brought by the 24 Mountains of 2016. Yes, there is good news next year, but you must know how to activate the good fortune stars to work them in your favour.
On a lighter note, as we enter the festive season, there is plenty to look forward to and to keep us feeling happy! Adele is back, with her new album 25 finally out! We feature her as our celebrity of the moment and take a look at her Paht Chee, spotting Double Dragon power, but also sitting back in pure awe at her huge voice and her incomparably emotive new songs. There's a lot to say about generating hype, but when the product that finally arrives exceeds all expectation, now that's historic!
Another momentous event on the horizon is the return of Star Wars! This 7th movie, The Force Awakens promises more magic as JJ Abrams develops on George Lucas' genius, making fullest use of the huge Disney machinery placed at his disposal. For sure, we cannot wait to see Harrison Ford as Han Solo once again. Speaking of dark side versus light side, Lillian Too introduces the powerful Surya Hand Mudra, which invokes the power of the sun to promote body healing. The exercises are simple but the results can be extraordinary.
The highlight of this issue must be the Uncommon Relics of Choden Rinpoche, truly one of the great Tibetan Tantric Masters of our times. His recent passing was mourned by thousands and already the search for his reincarnation has quietly begun. Last month, Hanni Lim and Emillie Lee undertook a special mission to Sera Jey Monastery in India to photograph the rare relics that emerged from his cremation pyre. Within, for the first time anywhere, we showcase the precious pictures of Rinpoche's uncommon relics together with comprehensive commentary as a prelude to a tour of the relics being organized by Rinpoche's heart disciple, Geshe Gyalten. Watch out for announcement of dates and venues as these get firmed up for early next year.
Our Case Study this issue shares what happens when one ignores the basic fundamentals of feng shui when moving into a new apartment. No matter how posh or modern, how well-landscaped the new place is, when the directions are all wrong for you and your family, horrible things can really start happening. Hanni Lim walks readers through this fascinating story of how she diagnosed and remedied the feng shui of a friend's new apartment. If you are moving soon into a new place, this feature is definitely for you! We also carry an article on the 8 Trigrams of the I Ching, the foundation upon which so many aspects of space and time feng shui are based on.
Our travel piece this December takes us to the Shrine of Lady Fatima in Central Portugal; Helen Oon shares the wonders of this sacred place with some truly fabulous pictures. She also introduces us to Anisa Madahiling, a Malaysian whose art is both mesmerizing and mystical. This creative lady is making big waves in the western Art World as she taps on her traditional Malay roots for inspiration.
For Christmas, Longleat estate in Wiltshire, England once again hosts a Festival of Light showcasing the wonders of ancient China, this time bigger and better than ever. Their glorious light sculptures truly manifest East meeting West – there are magnificently auspicious scenes that build on the legends and folklore of China, including the Eight Immortals, the Monkey King and the first Emperor of China, Qin Shi Huang Ti and his Terracotta Army. If you are in the neighborhood, it's worth a visit!
In our Paht Chee piece, Phillip Lim introduces readers to the Four Heavenly Protectors of your 4 Pillars destiny chart, explaining how to determine if you have them and what to do if you do not have them in your chart. From Singapore, Katherine Kuan writes us another letter to Lillian, which we felt was too good not to carry in this issue, as she shares some interesting lottery winning tips!
We want to congratulate the graduates of Lillian Too's recent Master Consultants Course in Feng Shui. This class saw participants from 18 different countries, and for the qualifying exam, 9 scored Distinction. We are thrilled with the enthusiasm and high standard of understanding demonstrated by the class and we truly look forward to sharing their tales of success with you in the future.
For the festive season, here's wishing everyone a very merry and safe Christmas, and a fabulous New Year.
Looking forward to seeing you all at the Extravaganzas in January!