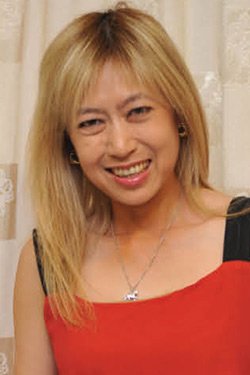 Dear readers,
We are moving into the final quarter of the year and beginning to feel the world's energies changing. The coming year 2015 belongs to the astrology of the Sheep, a sign that typically signifies benevolence and mild-mannered diplomacy. The coming year has both good and bad news, the negative being the energy clashes that need to be dealt with. The Sheep nonetheless is a sign that can open up mountains of opportunities; knowing how to create a strong Sheep can unlock a wealth of riches, especially to those who know how. Those keen on knowing how to harvest the abundance of the year then should make a date with Lillian Too at one of her FENG SHUI EXTRAVAGANZAS 2015 when she plans to share some truly interesting NEW information about staying safe in the midst of clashing and conflict energies.
It is only by enjoying stability at the personal and home fronts that you can extract the promise of abundance waiting to be mined in the coming new year. So we look forward to connecting at these usually sell-out Sunday events. (Tickets available at www.wofs.com for Singapore & Kuala Lumpur, Malaysia; and www.tuticket.com for Miami, Florida).
We all know that war can well break out, and in Europe, the danger of Ukraine being the catalyst for a major flare-up between the super powers of USA, Europe and Russia are very real. Our recent ongoing September meetings with our global business partners brought our Ukrainian World of Feng Shui partner Anzhelica Sorokini to Kuala Lumpur. It was a miracle she even made it, considering what is going on in her country. Over dinner with us, she painted frighteningly stark pictures of her country turned upside down and left us quite shaken. She had missed our Spiritual Feng Shui event earlier in the year because Donetsk, the airport she usually flies out of, was badly bombed and closed for over a month (this is the town near where MH17 was shot down in July of this year).
Just before she came to Kuala Lumpur this time, the City Council, located just a street away from her World of Feng Shui boutique in Mariupol, was also bombed. She tells us, "…my peaceful and modern town now crawls with army tanks and foot soldiers." This, she says, is a far cry from the reality she knew just a year ago. We told her to share her experiences with our readers so she wrote us a letter which we carry within. In it, she thanks us for the power of our amulets, which she is convinced kept her alive and safe. Her shop continues to stay open, the only one on her street still standing, and she is doing good business. Customers can see her shop is somehow magical, even as war continues to be a threat.
Another business partner who came to town was Tanaka-san from Japan. Tanaka has been with us for over ten years, and is fast becoming recognized as the premier Feng Shui authority of Japan. We tease him a lot about this, but this time round at a dinner at Lillian Too's home, Tanaka suddenly went all quiet and said in a serious tone, "After attending the TARA Retreat, I was at a party to launch a new restaurant in Tokyo when this woman collapsed into a coma after getting drunk. Then someone ask me to do feng shui to wake her… there were over a hundred people watching, so I sat opposite her and started to recite Medicine Buddha's mantra, and I visualized the Blue Medicine Buddha above her head, then suddenly she opened her eyes and stood up.
Tanaka was surprised at himself; it had been a dramatic show of the power of his spiritual feng shui practice. Attending our Tara Retreat had somehow bestowed on him a healing siddhi (special skill) probably because he is such a spiritually-inclined feng shui master! Additionally, Tanaka's new book on Cleansing and Feng Shui written tongue-in-cheek cartoon style is currently climbing the charts in Japan! I thought to share these two stories to demonstrate the breadth of feng shui's benefits.
On a lighter note, we feature a gossipy piece on Prince Harry and his on-again-off-again romances, especially with the young and pretty socialite, Cressida Bonas. They make a ravishingly beautiful couple, but since their break-up several months ago, the tabloid press has been speculating on the prince's very active social life, linking him with various beauties, the latest being a brunette with more than a passing resemblance to sister-in-law Kate Middleton; but as we go to print, it appears our handsome prince still has a soft spot for the effortlessly stylish young Cressida.
We have a comprehensive story for those of you expecting or planning to have a Sheep baby. Depending on your animal sign, plus several other factors, you can read all about the relationship dynamics between you and your Sheep child. You might also be pleased to know that some of the more famous inventors and creative minds of our times belong to the Sheep sign. Steve Jobs was a Sheep, Bill Gates is a Sheep… the brains behind the Kardashian phenomenon Kris Jenner is also a Sheep! Those wanting to magnify their fertility luck will like our story on the Cowry Shell, a potent natural amulet that attracts prosperity luck for the family, and also believed to be a powerful fertility enhancer.
Serious practitioners meanwhile are sure to enjoy Honey Lim's extremely eye-opening case study. In it she features a sorry case of an unfortunate practitioner who placed so much weight on Flying Star feng shui, she completely overlooked all the obvious space feng shui errors she had unwittingly put in place in her home. Indeed, the case is a must-read for everyone, demonstrating all the ill effects of bad feng shui caused by ignoring the power of symbolic feng shui. Honey explains the mistakes made, which when pointed out, become glaringly obvious.
Meanwhile, in our Corporate Edge story, we discuss how adding greenery to the workplace can improve its feng shui and the productivity of employees; it can also improve team harmony. In our architectural feature, Chris Yeo discusses the difference between the "merging" and "combining" of spaces while looking to achieve the perfect balance of yin with yang when planning one's interiors.
Our travel piece follows Helen Oon to Arosa, Switzerland, a magnificent winter wonderland with plenty for both pursuers of alpine sports as well as for the more laid-back tourist looking to appreciate Mother Nature. Lavender House in Berkshire, UK showcases clever use of feng shui in its interior décor, as well as the creative use of colours. And with Fashion Week in New York and London just over, we bring you a feature on Victoria Beckham, who recently opened her brand new store in London. While she has truly become the most popular new queen of high fashion, she is very much a matriarch at heart. She is rarely seen without famous husband David Beckham, her three boys and stunning daughter; they mean the world to her, which is one of the reasons we like her so much.
This issue is chockfull with plenty of great stuff to read inside, so do enjoy! Wishing everyone a very special October!