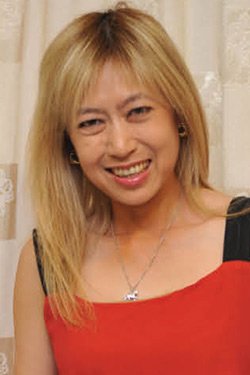 Dear readers,
Time is flying too fast! Already it is April and it feels as if the year has only just begun. I like to think that time flies when we are busy and happy; when the people we care about make up the sum of our days and when life itself is multi-dimensional. I guess here at FSW it is all of these things!
There are just so many exciting things happening for us; our pipeline is full and steaming ahead, with many pathways opening up. Making choices can be hard but also exciting.
Most dazzling of all are all the things we visualize in our minds. In this issue, Lillian Too revisits the science of Creative Visualization – a method she has used her whole life to help her manifest all of her biggest of wishes and dreams into reality. Even becoming so BIG in feng shui was something she knew would be the new mountain she would climb after she left the corporate world. And so it has come to pass. Today, Lillian Too sits happily in her paradise of a home filled with an incredible collection of feng shui symbols and an unbelievable variety of holy objects.
She has shared much of her knowledge of time, space and spiritual dimensions of feng shui with the world, alerting all to the potential of good years and the danger of bad years – and also when dangerous months come round caused by the unrelenting movement of time!
This coming April for instance is a dangerous month. Honey Lim explains the phenomenon of month and annual charts aligning in her "Double Trouble" feature, which comes complete with ways of avoiding getting harmed by the dangers of bad stars doubling, but also good stars strengthening.
A good way to avert bad luck is to travel. The Chinese believe that when charts point to a difficult hurdle, a good way to avoid getting hit is to cross the great waters. This means taking time to travel, to cross big mountains and to endure long journeys. Then whatever obstacles you may encounter, you can overcome.
That is how it was for Lillian Too and her friends when embarking on an incredible 16-hour journey across the Southern Himalayas to Tso Pema, India, an arduous but extraordinary pilgrimage to the Lotus Lake where Guru Rinpoche first revealed himself and showed his great powers over the cosmic elements. Accompanied by a small group of spiritually-minded friends and led by their guru–ji Khenpo Delek Rinpoche, the journey involved having to overcome various perilous obstacles that made the roadtrip incredibly memorable.
We also feature Vail, Colorado, the King of the Rocky Mountains High of the United States, which hosted the World Alpine Ski Championships this past winter. We share some amazing pictures of us skiing these mountains!
Having crossed so many mountains, we refused to come down to earth too quickly, and so we bring you Disney's remake of a favourite fairytale, the story of Cinderella brought beautifully to the silver screen by the sweetly gorgeous Lily James, who is so absolutely lovely playing the girl with the golden childhood and a heart of gold, having adversity and misfortune thrust upon her; then transforming into a princess using the power of her mind. This new version of Cinderella brings us the simple message that good always triumphs over evil. We examined Lily James' horoscope and discover that she enjoys the effect of two Big Auspicious stars in her chart this year. There is no doubt she is going places because she is obviously on a roll. We also predict some other budding stars who share this incredibly lucky feng shui attribute this year…
We also go behind the cameras to bring you a feature on the wonder lady of American television. Shonda Rhimes herself, arguably today the most powerful woman in network TV. She is the Producer of THREE of television's most popular shows watched by a breathtaking two billion people globally based on re-runs and downloads. Her Thursday night line-up on ABC with all three of TV's biggest hit shows (all produced and most written by her) is unprecedented in the history of the industry. Her goal is to "normalize" TV and many hail her a hero for creating opportunities for "diverse" people; but she says she hates the word because it implies people in these minority groups are different, not normal; when in fact, it is TV that is not normal. She is merely making TV look more like real life. We salute her that and look forward to her new show The Catch set to premier this year.
Our Feng Shui Case Study features a corporate situation where a top-performing manager, following an upgrade into a better office, sees her job performance seriously deteriorate. Honey Lim walks us through her sudden change of luck, offering her solutions to the unfortunate new direction and other bad feng shui features that befall her in her new office. In our architectural feature, Chris Yeo debates the merits of renovation versus rebuilding when you buy an old property. Phillip Lim in his Paht Chee column explains health afflictions showing up in the birth chart, and offers element cures to nullify the negative effects.
With Spring now upon us, we bring you Flower Power, a holistic feature from our roving editor, Helen Oon, who takes a walk through a park filled with magnificent blooms. She is inspired to share the benefits of plants and flowers with us, taking her cue from Traditional Chinese Medicine and Bach remedies.
Before saying adieu, I am just so excited to tell you that tickets to Lillian Too's Spiritual Feng Shui Event in August (2nd Aug in Singapore and 9th Aug in Kuala Lumpur) are now on sale at Early Bird prices. These are available online at www.wofs.com, www.sistic.com.sg and at all World of Feng Shui boutiques and MPH Bookstores in Malaysia and Singapore.
In this very exciting event, Lillian will be introducing a brand new method of invoking special cosmic energies into living spaces. She will introduce the practice of the Nine Taras Mandala, which invokes the great enthralling power of the Goddess Tara in nine manifestations to transform all ordinary house space into extraordinary sacred space. When you invite the Nine Taras Mandala into the home, this overrides whatever bad energy may be brought by the changing winds of the environment from year to year. All the symbolic feng shui cures and enhancers in the home get consecrated with Goddess power. All good things magnify in impact, and all obstacles get dissolved. It is an easy way to get to know the eternal and immortal Goddess Tara, who manifests in a variety of ways in so many of the world's spiritual and religious traditions.
It promises to be a super exciting event, as this will be the first time Lillian is sharing the Goddess Secrets of Feng Shui with her readers. Do not miss this.
Happy reading and enjoy the issue!