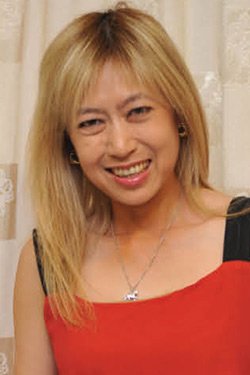 Dear readers,
As we move into the last quarter of the year, our October issue marks a major milestone for us here at FENG SHUI WORLD. It is our 100th issue! We first launched this magazine as an additional tool for feng shui practitioners to stay updated with the changing energies because in feng shui, as in life, the only constant is change. When one has learnt to master and manouever the changes, and to stay in sync with the energies that permeate our living spaces, that is when one can enjoy true happiness and harmony.
Feng shui is not a static science pre-written in a pre-historic book. Indeed not; it is a dynamic practice that needs to evolve and adapt to our modern and fast-advancing way of living. A hundred years ago, there were no skyscrapers to contend with; just twenty years ago, there was no Internet. Today, everything happens at lightning pace, and increasingly, there are science-based discoveries that hint at everything being interconnected.
Of course we do not yet know all the interconnections, or even what they mean, but fabulously entertaining TV shows like SCORPION and TOUCH, which tap into the minds of pure geniuses, point towards omniscience not being the purview just of the Gods. Lillian Too shares her thoughts on all this within.
Lillian also touches on Taoist Feng Shui, which has not been given enough credence in modern feng shui literature. When learning feng shui, one can get caught up in the formulas, the countless charts and the numerological sequences, but it is always vitally important to go back to basics and notice also the simple stuff. She addresses this in her article on "Capturing the Chi of Prosperity", encouraging her readers to develop the feng shui eye and to sometimes allow intuition and instinct to play a part in feng shui analysis.
Some call this developing psychic ability, a skill that lays latent in all of us. How psychic one can be depends on how much practice you focus on this ability, but like any other ability, with the will and the effort, it can be acquired and mastered.
From Hollywood, we await the next bestselling book adaptation, THE GIRL ON THE TRAIN by Paula Hawkins. Emily Blunt stars as the movie's lead, and from the trailer, it looks good stuff indeed. Opening on October 7th, it features a stellar supporting cast including Luke Evans, Justin Theroux and newcomer Haley Bennett. But after reading the book, the movie has a lot to live up to! We also look at Emily Blunt's Paht Chee and discover a chart full of DOUBLES.
Hanni Lim, from her trip last year points out some modern-day Dragons rising up from the South China Sea, connecting Hong Kong to Macau to Zhuhai. These mammoth steel structures that can count as modern day wonders of the world truly look like Dragons frolicking in the oceans, designed in a deliberately meandering fashion – perfect feng shui for a country that is increasingly embracing its luck-bringing heritage. Phillip Lim's Paht Chee column talks about the 5 Ghosts Star, which can bring either 5 types of good fortune or 5 types of misfortune. If your chart happens to have this feature, do be sure you know how to bring out the positive aspects of this star, and how to suppress its flip side.
Dato Halimah Mohd Said contributes a piece that gives much food for thought, on how to age gracefully and how to ensure life after retirement holds even more meaning than life before that. She is a living breathing example of someone who has grown even more since formally quitting the "job market", now championing causes close to her heart and saving quality time to spend with those nearest and dearest to her.
Our Tapping guru Shahreen Kamaluddin highlights all the ways you can use this technique to ensure that each and every day turns out to be a satisfying and happy one, and demonstrates in a series of photographs the exact meridian points to tap on. Katherine Kuan asks "What kind of Dragon Chi do you have?" because the kind you choose will have much bearing on how quickly feng shui can work for you, and by what means.
Dato Kee Hua Chee this month interviews Malaysia's very own celebrity fashion designer Melinda Looi, whose personality is as big as her designs. This unique lady has developed a distinct signature style, and like the fashion greats of the international stage, she embodies her art in every breath of her being, from her big hair to her boho chic.
Helen Oon our travel correspondent takes us to Thailand, land of splendid Buddhas and dazzling temples, eventually finding herself in 137 Pillars House, a historic homestead turned boutique hotel hideaway with links to Louis Leonowens, the son of Anna Leonowens, made famous in THE KING & I. Another personality who deserves promotion is Albert Teo, who is championing the cause of Eco Tourism – i.e. responsible tourism that does not deplete the land of its resources; instead, he approaches tourism as a means to educating and employing the local tribes and peoples, while as far as possible, preserving their rich culture and heritage.
Lastly, but most definitely not least, we are super thrilled to announce our Fortune and Feng Shui 2017 books are now out! We have produced these books annually for over ten years now, and year after year have happily had such great feedback on how accurate and helpful they are for forecasting and preparing for the new year. We have worked at making updating your feng shui as easy as possible, and hope you continue to enjoy the books. They are also deliberately priced economically (the price of a Starbucks coffee!) to make them accessible for everyone, so do get them as Christmas and New Year gifts for all your friends and loved ones as well!
And don't forget to book your tickets to Lillian Too's Feng Shui Extravaganza to be held Sunday Nov 20th in Suntec Singapore and Sunday Dec 11th at Hotel Istana Kuala Lumpur (www.wofs.com). If there is one event this year you MUST NOT miss, it is this. Invest one day with Lillian to lay the groundwork for a most fabulous year ahead!
Happy reading!