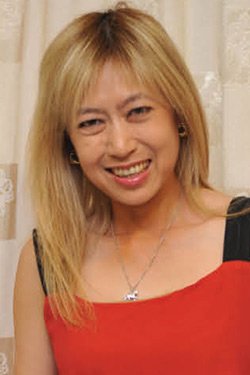 Dear readers,
We are preparing this issue under the sad shadow of grief. Last month, a second air tragedy hit Malaysian Airlines, our national carrier, when Flight MH 17 from Netherlands to Kuala Lumpur crashed in Ukraine killing everyone on board. We have not yet got over the terrible loss of MH370, which continues to be a bafflement, surrounded by conspiracy theories aplenty; and now MH17. We received so many notes from overseas friends checking if we were alright and that we didn't have any friends or loved ones on the plane; we got asked, how can MAS suffer such bad luck? One plane tragedy is enough, two by probabilities almost an impossibility. While I didn't know anyone personally on either plane, I have friends with relatives who do, on both planes. The world is indeed a small place, and I empathize so wholeheartedly with their grief. As a nation, we are still in a state of shock.
There were many coincidences with both planes – Lillian Too addresses these in an article within. But even if all the feng shui indications were spooky, it is difficult to blame bad feng shui for something like this. There must have been greater forces that brought the causes and conditions together. For now, we pray for those who were on those planes, and for their families and loved ones left behind.
This past month also saw Lillian Too launch Manifesting the Protectors, a Spiritual Feng Shui event like none she has presented before, and now in hindsight, the topic seems so relevant, for she was teaching on how to invoke Cosmic Protectors to keep us safe from tragic accidents and dangers. The first held at Marina Mandarin, Singapore was an overflowing full house with over 1200 participants, while Kuala Lumpur's event at the Gardens Hotel also reached full capacity with nearly 1000 people. This year she shared secrets on invoking the Protectors, something so important in what seems like such dangerous times. She also introduced a very special guest Khenpo Delek Rinpoche, a High Lama of the Nyingma Buddhist Tradition, who led an amazing Protector Puja in the afternoon session, which we dedicated to the victims of the MH17 air crash.
The audience also participated in the ritual of "Hooking the Spirit of Abundance and Prosperity" using the "Datar", the symbolic arrow used in such rituals. The puja was designed to involve the audience as reciting the HOOKING prayer 108 times showers all the requests made by the audience. As we had more than this number of people reciting the prayer, it was truly auspicious! Those who wrote their wishes are likely to have their wishes actualized.
Our stories this issue lean heavily on the power of symbols. After an eventful month spent turning night into day during the awesome FIFA World Cup 2014 in Brazil, we bring you a story by Lillian on the Coats of Arms of the world's superpowers whose national symbol is the mighty eagle! Indeed, when Germany met Argentina in the Finals of the World Cup, looking at the official insignia of the two countries, it was easy to predict the winner. I was loyal to Argentina all the way, so it was heart-wrenching to watch Lionel Messi receiving his Golden Ball award for Best Player, which really was just a consolation prize. Nevertheless BIG congratulations to the German team, which played so awesomely!
We also carry a story within on the Royal Crowns of modern-day reigning monarchs, revealing the powerful Hidden Vajra in their sovereign regalia, surely a symbol that must somehow have contributed to the staying power of their royal houses!
Meanwhile, there have been a preponderance of black moths in Malaysia; many people have reported seeing these big night butterflies in their homes and around their properties. The Chinese believe that black moths signify a recently deceased friend or family member visiting. But it can also be a warning, or an omen. Soon after the influx of these moths, we had the plane crash – I wonder if the moths in this case brought a foreboding premonition.
Indeed, this Horse Year is turning out to be a mighty fierce one, and looking at the chart, the blazing Fire energy has not fizzled out. In fact, it only gets stronger as we move on into the second half of the year. We are also entering Hungry Ghost month, a time to be very careful as the wandering spirits let loose during this period can wreak great havoc. We bring you some advice on how you can navigate safely through August, appeasing the spirits rather than antagonizing them.
We also have several practical features, with our case study by Honey Lim focusing on how to use mirrors to correct wrong feng shui, and our Paht Chee column by Phillip Lim featuring those with Water as their self-element. Chris Yeo gives us essential pointers when buying property, while our guest writer Lee Milteer talks about the Five Energies, introducing a delightful new approach to viewing one's personal energies. Helen Oon talks UK shopping; not London but Bicester Village in Oxfordshire, where the Outlet Mall - a popular concept in the USA - has taken both Britain and their busloads of tourists by storm.
As we enter the tail-end of summer, we found a new way to have some fun with feng shui. Via hair colour! My hair is now a bright blue, and Lillian's a hot pink! We got nails to match our psychedelic hair, and did it bring luck –yes, it sure did for us! Lillian explains how you too can be bold with your hair colour as an enhancing agent for your personal feng shui. More inside!
Please have a safe month and for our Muslim readers a very joyous Hari Raya. We wish all our readers a fabulous month of August!