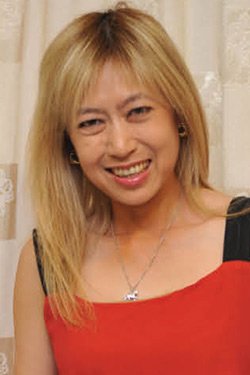 Dear readers,
September for us is when we officially start gearing up for the coming year. We have just sent our Fortune & Feng Shui 2016 books for each of the 12 animal signs to print and these will be available for sale before the month is up. Lillian Too's Feng Shui Extravaganza 2016 tickets are also available now through our usual channels (MPH, www.wofs.com and SISTIC) at Early Bird discounts for those who get their tickets early, so do book your seats soon!
This issue we have a collection of some really fabulous stories. When the art and science of feng shui first came into prominence with the earliest of Lillian Too's books "The Complete Illustrated Guide to Feng Shui", it started a worldwide craze where everything feng shui and related became all the rage. Even primetime TV shows like FRIENDS and THE SIMPSONS had their token feng shui episodes. Then came the Zen period, when some advocates of "feng shui" started popularizing clutter-clearing and minimalist living.
Lillian was then approached by publishers to write about this minimalism and decluttering to further elaborate on her expertise. She thought about it, but then said, "minimalism is not feng shui!" In this issue, she introduces the art of Maximalist Living, a powerful mindset she has always subscribed to and lived by, one which assumes a state of abundance in one's life always. This mode of living permeates one's lifestyle from the way you think, to the way you dress, to the way you decorate your home… but try it! It is uplifting, it is liberating and it attracts truly fabulous good luck your way.
Our personality this issue has to be Donald Trump, billionaire magnate and US Presidential hopeful. So does he really have what it takes to get picked for the top job in the world? And what kind of President would he make? While his campaign started out as a big joke, the polls are now swaying in his favour, and like he points out, "If I weren't a successful person, it wouldn't work so well. Voters have great confidence in me because I really have been successful." He is no doubt a showman, and yes even a TV ratings machine, but will he make the cut? Lillian gives her opinion.
From the movie world, we feature Emma Watson. Everybody's favourite witch from the Harry Potter era is now all grown up and finding her voice. She was appointed to the United Nations as a Women Goodwill Ambassador last year and has since made their women's rights campaign HeForShe her own. Together with her humanitarian work, she continues to make movies at a prolific pace, with at least three soon-to-be-released films featuring big-name co-stars like Tom Hanks, Ethan Hawke and Luke Evans. She has a long bucket list, but looks to be checking off each task with great efficiency. We take a look at her Paht Chee chart with some interesting findings.
On the business front, there is no success story quite like the Amazon.com story. Named after the greatest river in the world, Amazon.com has forever changed the face of the book industry, and is now conquering everything else. If you look at the Amazon River and how it meanders across South America, it resembles a mighty Water Dragon; in terms of total water flow, it is the biggest river in the world. Founder Jeff Bezos is a known believer and practitioner of feng shui, and the name he chose for his company surely was not one picked just by chance. We look at the incredible mind of Jeff Bezos and his attitude towards work and business.
Having just completed Lillian Too's Spiritual Feng Shui event where she shared the benefits of invoking the Goddess Tara, with Khenpo Delek Rinpoche leading a one-of-a-kind Puja, we bring you full coverage of this very special afternoon. Friends and followers flew in from all around the world to attend this event, and among them this year were Lynn and Phil Conder from Perth who share their incredible real-life story of how the trip of a lifetime manifested for them following last year's King Gesar retreat. Hanni Lim brings all the details of this powerful aspect of feng shui – the Spiritual aspect.
I know so many friends wanting to start families, and in today's world where women work, settle down to family life later, and juggle so many different responsibilities and aspects of living, fertility has become a real issue. IVF doctors are more in demand than ever, with couples having greater difficulty conceiving or carrying to term. Hanni Lim's case study zeroes in on this matter, where a simple feng shui tweak was all it took to turn a childless couple's flagging marriage around, blessing them with two beautiful children. We also have a Pregnancy Taboos list for all expectant mothers to take note of!
Helen Oon brings us Korea in London, a festival showcasing all that this colourful country has to offer. Their marketing motto made full use of the K prefix, from their world-famous K-pop, to K-fashion, K-cuisine and K-content. Perhaps they too have heard about the numerological power of the letter K, a "master double". She also introduces us to the lovely Diana Culey, a Malaysian designer making a name for herself in the UK. Dato Kee Hua Chee meanwhile interviews Chef McDang, a member of the Thai Royal family who is lending his name and expertise to the newly opened Chakri Palace, whose latest location in KLCC mall serves up Royal Thai cuisine (different from your regular Thai fare!)
Phillip Lim goes deeper with his Paht Chee, explaining how to ensure your main door conforms to both your feng shui Kua number and your Four Pillars birth chart to maximize the benefits it can bring you. Chris Yeo discusses swimming pools and how to ensure they look good as well as being an auspicious addition to your home décor, while Lim Han Jin gives a snapshot on the Metal element in feng shui.
We have some even more exciting news and offerings, but that can wait till next issue. In the meantime, stay tuned to all our social network accounts for day-to-day updates!