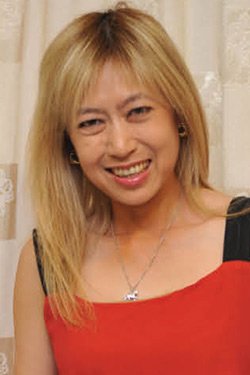 Dear readers,
This month of August is when we need to be wary of the convergence of the Hungry Ghost month with the afflictive Earth stars - 2 & 5 – occurring together in the center of the month's feng shui chart. It is vital to be extremely cautious, more importantly to not leave home without carrying or wearing some kind of protective amulet. We have continually stressed how important it is to have a talisman in one's pocket to ensure one is never caught off guard in the wrong place at the wrong time.
Danger seems to lurk anywhere and everywhere these days. City roads and glamorous holiday destinations, even airports once thought safe are no longer so. This is a black year and it is making the world very hazardous indeed, not only from natural disasters - floods and fires et al -but also from manmade dangers and sudden killings.
It should not be surprising then that we give prominence in this issue to the protective aspects of feng shui. Lillian Too shares a precious King Gesar practice that anyone can use to invoke the protective power of Gesar's rainbow aura, which comprises nine celestial manifestations of cosmic warriors. This is a simple five-minute incense ritual you can learn to call on each time you are in a situation of danger. Hanni Lim writes on the Hungry Ghost Festival, paying special attention to the taboos to observe, to avoid getting disturbed by wandering spirits let loose from the hell realms. Whether or not you believe in these cosmic truths, it is advisable to take note of the safeguards recommended. You will be glad you did.
Speaking of which, you would probably be surprised how many people put their faith in superstitious rituals and good luck charms. In the world of competitive sports for instance, Serena Williams, Tiger Woods, David Beckham, Nico Rosberg and a lot more others have their own lucky beliefs. In our feature, we take a look at some of the things they do to keep themselves on a winning streak. Champions are made from a mixture of talent, drive and relentless hard work, but there is always the element of luck that can make such a difference between winning and losing. Luck has always been the factor that is out of anyone's control, although of course we here at Feng Shui World believe that with good feng shui and a lucky charm or two, good fortune can always be directed our way!
Last month was truly eventful, not least the sudden loss of power that befell the UK's Prime Minister David Cameron after BREXIT prevailed in that country's referendum and the equally sudden emergence of the virtual unknown, Theresa May as the country's new Prime Minister. She had power thrust onto her shoulders, becoming the nation's second lady PM and riding on the crest of matriarchal power brought by the #8 star in the SW this year, no doubt. As her Paht Chee indicates she would, Theresa May rose to the occasion brilliantly and with grace. The shake-up in Britain is an amazing instance of a sudden reversal of fortune, something we have always warned people of. It can affect anyone, anytime and anywhere. Read more on the new Prime Minister within as we have studied her birth chart in some detail.
Across the Atlantic, the Democratic National Convention has officially confirmed that another woman, Hillary Clinton might also ride on the power of the Matriarchal energy wave this year. She faces Donald Trump in the race for the White House. If she does win, we will have three powerful women at the helm of the Free World if one also counts the Chancellor of Germany, the formidable Angela Merkel.
Phillip Lim takes a look at the Birth Chart of South Korea's President, another woman, Park Geun Hye. He uses her as a case study to explain the Star of the Celestial Nobleman; this should give us additional inputs into the destiny of the women in power in the world today.
Lillian shares her FACEBOOK adventures as she introduces readers to Yusuf Hashim, an accomplished photographer and also an old friend of hers. His adventures take him to the farthest reaches of the Earth, where he captures on film some of the world's most beautiful landscapes (we reproduce several of his absolutely breathtaking photographs inside). With beauty comes an element of danger, but living with some risk always makes for a more exciting existence, and also for great stories to tell. Helen Oon takes a trip to Malacca, one of Malaysia's more attractive tourist places. She describes it as setting foot into a history book.
July saw my family take a short trip of our own, to Singapore, which these days bring in some truly wonderful world-class shows. We watched Les Miserables at the Esplanade Theater – the cast, orchestra, music, stage and acoustics were brilliant – the production moved half the audience to tears. I cried too, and then the next night I laughed so much watching the incredibly talented duo of Igudesman and Joo at the Victoria Theater. These are two classically-trained musicians injecting a huge dose of comedy into Mozart, Chopin and Rachmaninov, making classical music such good fun! Read more about them inside. Watch them live while they are still on tour for they are the next Big thing!
Meanwhile, with Netflix now available, we have access to some of the best shows on TV, one of which is the amazing production Marco Polo. With Season 6 of Game of Thrones now over, Marco Polo more than fills the void. Season 2 of this epic production by The Weinstein Company was entirely shot in Johore, bringing Malaysia firmly to the forefront as a quality filmmaking nation. We also get to see our very own Dato Michelle Yeoh playing Lotus in the series.
Our young Rinpoche friend Charok Lama's piece this issue talks about tweaking the mind as he delves deep into the philosophy of tantra, that which lies at the heart of Tibetan Buddhist meditation. We also run a recap of Lillian Too's Spiritual Feng Shui event, where she shared some potent methods to actualize one's wishes with the power of a force greater than ourselves. At the event also was our dear friend, Khenpo Delek Rinpoche, who led a beautiful Bum Tsog to benefit all who came.
If you missed this event, you can catch it online via Lillian Too's Mandala – sign up with our EZine on www.wofs.com to get the recap.
Enjoy the advent of Autumn as we get ready to welcome cooler weather.