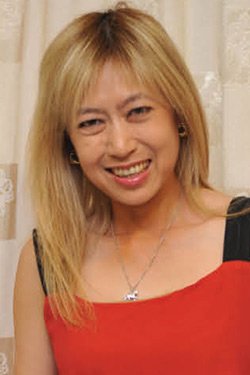 Dear readers,
We are excited to bring you another issue of fabulous feature stories that are sure to enhance your understanding and practice of feng shui, articles that show just how broad a reach feng shui has in our modern world.
As many of you familiar with our calendar knows, this month we gear up for our very special event, Lillian Too's Spiritual Feng Shui, to be held in Singapore on Sunday June 26th and in Kuala Lumpur on Sunday July 3rd. This year Lillian is focusing on empowering the inner chi in the most powerful and easy way, supplicating the wondrous Lotus Buddha of inner light to bring success and wellbeing in all areas of our lives.
Empowering your inner chi enables you to make the most of all the opportunities, big and small, that come your way; and when you go through challenging times, this inner chi will strengthen you from the inside, giving you the strength to overcome all the obstacles you are facing. Come and spend a Sunday with Lillian and participate in her excitingly meaningful spiritual event. Book your tickets online at www.wofs.com, or through SISTIC, or at any MPH bookstore or World of Feng Shui boutique.
In this issue, Lillian Too explains the method of easily and quickly harnessing the chi energies of the Universe. Read her piece on Giving and Receiving Chi and see how you too can strengthen yourself when you need to. Each time you feel weak or in need of an inner boost, try giving yourself an extra boost of energy by tapping into the largest energy source of all – the universe around us. Energy comes from everywhere – the sun, the moon, the morning air, the evening sunset, the clear blue skies, or an evening after rain, it is there for you to receive. Lillian explains how you can tap this amazing energy spring.
Speaking of Tapping, we introduce our new guest columnist Shahreen Kamaluddin, a certified EFT (Emotional Freedom Technique) practitioner who shares the amazing skill of tapping that is all the rage in the self-empowerment world these days. Deepak Chopra, Bob Proctor, Louise Hay have all publicly acknowledged the benefits of tapping. They call it the great healing tool of the 21st century. Shahreen demystifies this powerful healing method, which connects strong positive thinking with the meridian channels of the body; learn how tapping can amplify the body's own intrinsic power to heal and to manifest what you need in your life at any moment in time.
In our case study feature, Hanni Lim zeroes in on "missing sectors" in the home; this is a common problem for many of us who have homes that are simply not regular in shape. The feng shui repercussions can be huge when the missing sector is vital to your family's well being. Hanni explains what it means to have a missing sector, using a real life example to demonstrate how to remedy this affliction. Phillip Lim in his Paht Chee column addresses the "6 Difficulties", an afflictive star that is usually the culprit when a person possesses a seemingly auspicious chart yet suffers unexplainable problems that arise through life.
We also feature the biggest news in the sporting world, Leicester City Football Club's victory in this year's English Premier League. Bookies put their chances of victory at 5000-1; no one believed they could win. This club has never won in the 132 years of the sport's history, and their manager Claudio Ranieri even said he would've been happy for them to just stay in the League. Helen Oon takes a look at their story, at the fervent belief in the power of prayer of its owner Thai billionaire Vichai Srivaddhanaprabha, the feng shui of the City's "founder and father" King Richard III, and the events leading up to probably the most spectacular victory in the history of the sport.
The Chief Abbot of the Temple of the Golden Buddha, whose monks would fly in to the bless the stadium and its players before each match, said they do not pray for victory, they pray to keep their players safe from injury and for them to stay focused. The Thai people believe this victory is a way of sharing good karma and is a credit to the owner's generous philanthropic and community work.
We also feature Tzu Chi, the largest Buddhist charitable organization in the world. Its members provide education, disaster relief, charity and engage in countless environmental causes. Its founder, Master Cheng Yen is believed by many to be an emanation of the Goddess Kuan Yin, whose mission is to educate the rich and help the poor through taking action in cultivating kindness and compassion in the world.
From her strong conviction she has grown her organization from a handful of volunteers in 1966 to 10 million supporters around the world today. Their logo is symbolic of everything the organization stands for, incorporating as it does some very auspicious symbols indeed.
From France, we bring you the Cannes Film Festival always filled with so much glamour; this is where deals get made and the seeds of wonderful films get sown. We also feature the new X-Men: Apocalypse, which introduces exciting new mutants for us to love. The masterminds behind the new X-Men are astrological allies – Brian Singer born a Snake and Simon Kinberg born an Ox… there really must be a better chance of success when working with your "ally".
When it comes to glamour, we have right here in Malaysia the ravishing Winnie Sin of Rafflesia and her beautiful daughter Sin Hui Cin, who has recently joined her mother in the family business of bringing the most wondrous jade and other precious jewels to the city of KL. Dato Kee Hua Chee interviews the pair and their story makes for a beautiful fairytale read.
On that happy note, have a happy and meaningful June, and we look forward to catching up with you at Lillian Too's Spiritual Feng Shui Event later this month!